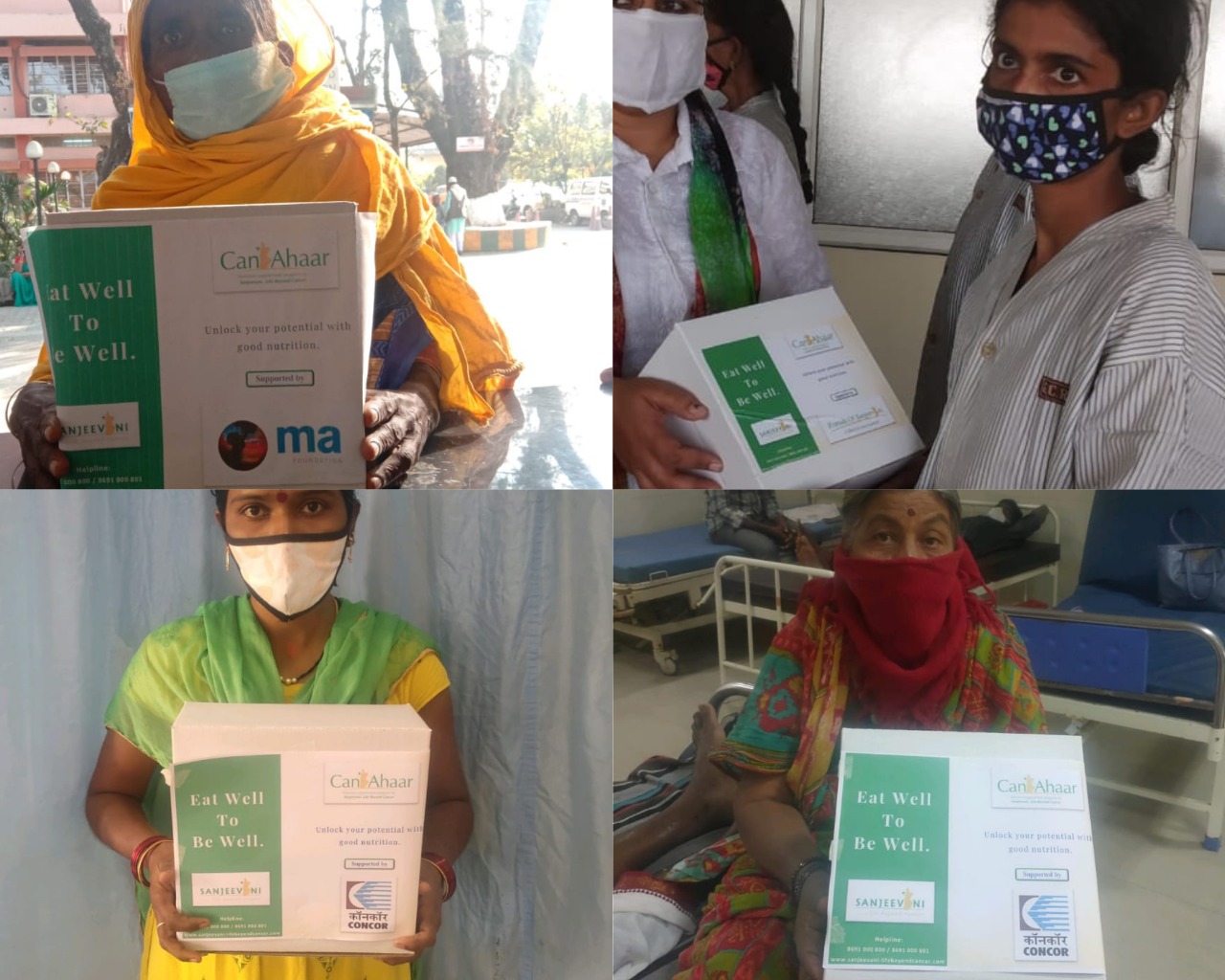 Sanjeevani Life Beyond Cancer in line with the ethos of their Holistic Healing Initiative Satori that the body has the ability to heal itself when given the tools it needs to do so, the CanAhaar Program was launched.
Fighting Cancer with Nutrition that nourishes and transforms health is of paramount importance for a positive outcome for the person fighting cancer. While most hospitals do provide subsidised meals to patients, the same needs to be supplemented.
Program Design & Objective
Keeping in mind this unmet need, working for development of one of the most vulnerable sections of society (peope fighting cancer) who are in dire need, helping them meet their nutrition needs by providing them essential nutrition bags is the sole objective of this program.
The Nutritional Supplement bags provided under the CanAhaar Program is a specially crafted one containing Basil Seeds (Sabja), Almonds, Roasted Channa, Til chikki, turmeric and spices (cinnamon, clove, peppercorns), raw peanuts, Rajgira Ladoo and Nachni Atta to meet their nutritional needs. 
Uniqueness of the project
Cancer can be fought when a person is physically strong to take treatment. But in India, a quarter of underprivileged patients are undernourished, which makes survival a problem. Which is why, the need arose for providing nutritional supplement boxes to people fighting cancer at government hospitals through their treatment. Thus, empowering them with holistic support through:
Nutritional counselling for people fighting cancer.
Provision for nutrition supplement bags.
Conducting support group meetings.
Overall monitoring + management of nutritional supplement bags.
Evaluation by senior nutritionist.
Impact of the Program
Currently available across 8 Regional Cancer Centres in 7 states; Guwahati, Jaipur, Bikaner, Manipal, Goraj, Kolkata, Ahmedabad & Mumbai.
If you'd like to be a part of this movement and our journey, you can take action today. You can volunteer with us here or Donate towards the change.